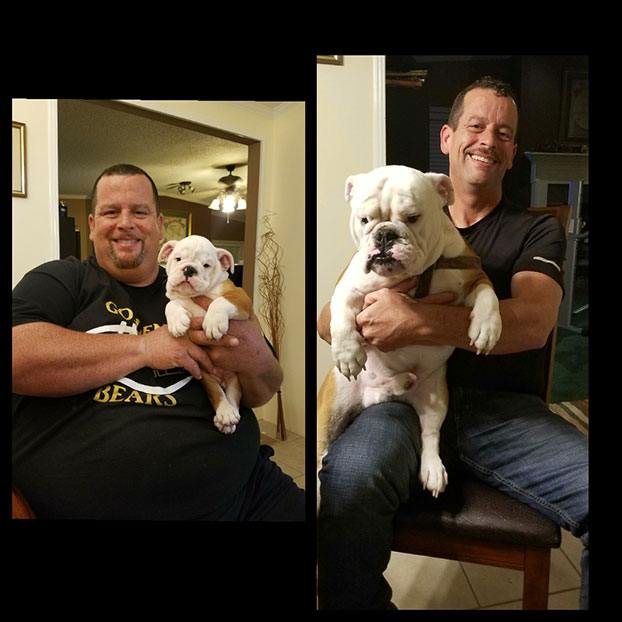 I've been a police officer for the last 28 years, and along with the way, I've had several injuries that caused me to get set back. In March of 2013, I even tore my posterior tibial tendon and meniscus while I was tackling a burglar on a bicycle. It seemed like every time I got hurt, I was laid up for a while, and I'd get big. I was struggling with my weight, and though I'd considered weight loss surgery before, everybody talked me out of it. I tried doctor supervised diets, but I just felt like all these diets were all wrong for my body makeup. Every diet I tried, it seemed like I would lose some weight, and then it would just pack right back on.
I knew I had to do something. I had to come to terms with myself and put myself first this time because if I didn't, I wouldn't be there for my family.
My oldest is 30-years-old, and I have two other kids who are 27 and 23, and my youngest is 10. I wanted to be here for my youngest when he was 20, and I knew that if I didn't do something, I wasn't going to be here very long.
I was just miserable – I had high blood pressure and my blood sugar kept going up. It had gotten to the point where I couldn't even go to Walmart with my wife and walk to the back of the store without sitting down. I got up to 420 pounds, and I was going to have to go on medical retirement, which would ruin all my pension.
I was seeing a neurologist about my back, and that's who told me I should consider weight loss surgery with Dr. Long. So, of course I went to see him, and the first time I did, I asked Dr. Long, "Where do I sign up?" I was convinced that this was what I wanted to do.
I took a leap of faith and just did it, and I took off work on December 28th, 2016 to have gastric sleeve surgery.
After the surgery, I stuck to what Dr. Long and his staff told me to do, and the weight just started coming off. I lost the first 80-90 pounds really fast, and after that, I started seeking out other things to do health-wise. I started watching my carbs and sugars, and I just did a little bit every day; whether that was walking up and down the driveway, or parking my car a little further away from the entrance.
As I lost the weight, I know my wife thinks I just got fanatical with it because it got the point that every time she would stand still long enough I'd do pushups on the floor. We'd be shopping in Walmart, and I'd crawl up on the clothes rack and do dips. I even upped my workout program to about 5 times a week and started finding hobbies to do.
Everything is just great; I'm living it, and loving it. I'm doing things I've never done in my life.
Me and my wife do everything together; we go kayaking, we ride bikes together, heck, we even race go karts together ever since I found out I could fit in one. I've been racing go karts all this year, and right now I'm third place in the points standings in my class. I do a lawn care service also. I've always had to hire help to do the hard stuff like the weed eating and whatnot, but now I do it all by myself.
Everything at work has even gotten better. I'm probably more fit than most of those guys in the department now. They don't hound me about my weight, and a few of them have gotten on the program, working out and doing things with me.
I don't look for food for comfort anymore, I just look at it as a way to survive.
My lunch and dinners don't change much because I just don't look at food the same way anymore. My wife packs my lunch every day, and it consist of celery sticks with peanut butter, snow snap peas with my homemade ranch, and maybe some protein and cheese. I snack on that all day long, and I'm most definitely satisfied. If we go out to eat for dinner, I usually just eat the protein off her plate.
Not only have I reached my own personal goal, but I've reached Dr. Long's goal for me as well. While I didn't think I'd want to be any lighter than 190, I'm now down to 171. Dr. Long's goal for me was 175. I went from a size 58 in the waist to a 30. I not only contribute this success to my staying active and watching what I ate, but what I felt was my duty to motivate others to do the same.
I found that the more people I stepped out and helped, the more it helped me.
If I talked to somebody who needed or wanted to do this program or asked me what I did, I would share it with them. I'd stay with them until they lost the weight. I'd share my diet plan, I'd share everything with them. It helped me to help them, and it kind of kept me in check – I guess the whole practice what you preach kind of thing.
The surgery has been life changing. Dr. Long and his staff saved my life.
I had tried every diet out there, and they never worked. This tool that Dr. Long gave me really helped me do what I needed to do. I am where I am today because of that, and the people who supported me.
Dr. Long is a super nice person, and his staff is amazing. They always remember you by name, and they're always really respectful. Right after I had my surgery, they called and checked on me the first month it seemed like every other day.
My advice to anyone considering weight loss surgery – don't let anybody make the decision for you. If you've made up your mind, don't let anybody talk you out of doing it. Just take a leap of faith and do it. I wish I would have done it 10 years ago; I wasted that 10 years of my life. It's not going to be easy. It's the hardest thing I've ever done, but the rewards are so great.
Birmingham Minimally Invasive Surgery is a caring group of professionals who specialize in all types of bariatric surgery. Our surgeon Dr. Jay Long has highly specialized training in bariatric surgery, having completed a fellowship in minimally invasive and bariatric surgery at The Methodist Hospital in Houston, Texas, where he focused on taking care of patients that are morbidly obese. And we are so proud of our pricing that we publish the costs right on the front page of our website! Insurance won't pay? We have a variety of financing options we can offer you so that you are able to get the healthy body you've wanted for years. Visit us today at http://www.bmisurgery.com/ or give us a call to set up a consultation at 205-833-6907.