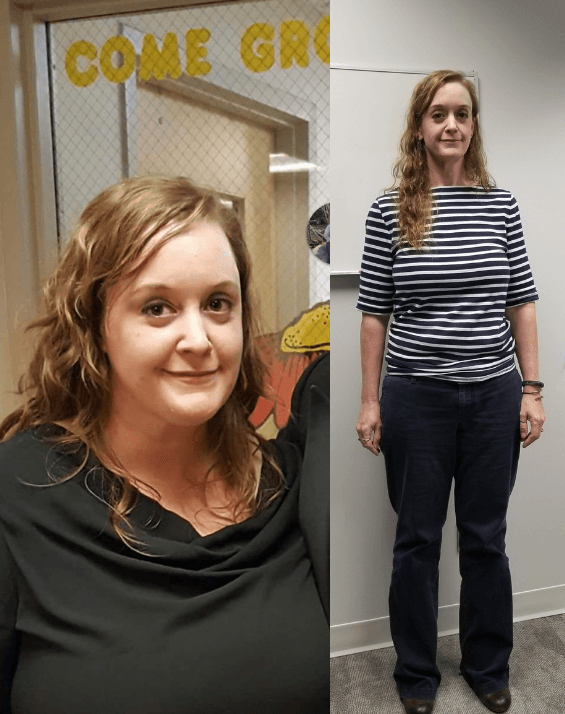 Over the years, my weight had just kind of gone up and down. I'd tried Weight Watchers, Medifast, and nothing seemed to work. When I changed jobs a while back, I even looked into weight loss surgery and went to a seminar held by Dr. Long at Birmingham Minimally Invasive Surgery. I was seriously considering it until I found out it wasn't covered under my insurance.
I had kind of given up on the idea of having weight loss surgery until the daughter of one of my mother's friends had it performed by none other than Dr. Long. One day she asked me if I'd thought about doing it and even went on to tell me she'd help me out if it wasn't covered. So out of curiosity I checked again, and turns out, my insurance plan had changed, and it was now covered!

Without giving it a second thought, I went to Birmingham Minimally Invasive Surgery to see Dr. Long.
Before I knew it, I was done with the insurance-required six-month supervised diet, and in June of 2017, I had gastric sleeve surgery. Looking back, it's one of those things where you feel like it should've been harder than it was. I'm not saying it was easy by any means, but it was exactly what I needed.
When people ask if I wish I'd done it sooner, I tell them, yeah, I wish I'd done it sooner. But at the same time, given my personality and where I was at in my life, I think it was the right time for it to work for me.
Since the surgery, while I tend to crave a variety of things, I'd say I eat very healthy most days, and I even feel out of sync if I don't have a small salad as part of a meal at least once a day. That's not to say that I don't still eat things that might be considered unhealthy, but I rarely want them since they typically make me feel bad afterwards. For instance, I found that if I have something that's super processed or full of sugar, it makes me feel weird, like I can feel my system is in the wrong gear. Because of this, I definitely crave unhealthy stuff a whole lot less than I did before, and for someone who was able to always pack it in, it's nice to have an internal governor that makes me want to stop after only a bite or two.
For me, my personality is such that the stricter you make it, the more I'm going to act out. But with the sleeve, if I really want pizza, I can still have it, but again, I just eat a bite or two before I'm good. That's a big reason as to why I think the sleeve was such a perfect fit for me. It's not restricting and just allows me to listen to my body.

My advice for anyone that's considering weight loss surgery – talk to people that have had it done and are maintaining so you know what it's like after surgery.

Get their perspective – is there stuff they miss? You should go into it with the understanding that you're not going to be able to eat like the rest of your family, that you really can't do carbonation, and if you have a really bad day, you can't eat a whole pizza and drink a bottle of wine. You can have a piece and a glass, but that's it.
Once you learn about the surgery from someone who's been through it and been successful, I believe you'll be better prepared going into it, and there's no one better to go see than Dr. Long. It's not an easy journey, but if you're like me, it's exactly what you need.

Birmingham Minimally Invasive Surgery is a caring group of professionals who specialize in all types of bariatric surgery.  Our surgeon Dr. Jay Long has highly specialized training in bariatric surgery, having completed a fellowship in minimally invasive and bariatric surgery at The Methodist Hospital in Houston, Texas, where he focused on taking care of patients that are morbidly obese.  And we are so proud of our pricing that we publish the costs right on the front page of our website!  Insurance won't pay?  We have a variety of financing options we can offer you so that you are able to get the healthy body you've wanted for years.  Visit us today at http://www.bmisurgery.com/ or give us a call to set up a consultation at 205-833-6907.