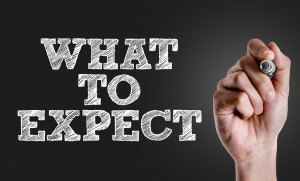 By Caitlin Hastings, Physician Assistant
If you're considering weight loss surgery, chances are, you have many questions. From how to prep for surgery to what recovery is like, you probably want to get an idea of what to expect. While the payoff can be huge, the process of preparing for weight loss surgery can be quite lengthy, and the recovery can be just as emotional. But for those that are serious about getting back to a healthy weight, we have countless patients who will tell you that it's more than worth it.
From preparing for the operation, to the post-surgery diet, here's an overview of what you can expect when you decide it's time to go forward with weight loss surgery.
6 Months Prior To Surgery: Begin Insurance-Required 6-Month Physician Supervised Diet Program
If your insurance covers the weight loss surgery, it's usually about a 6 to 7-month process. This is due to most insurance companies requiring a 6-month physician supervised diet and exercise program before they'll approve the operation. Regardless of whether or not you lose weight throughout the program, the goal is to document the fact that you've tried dieting and exercising, and you still need the surgery.
On the other hand, if you're paying out of pocket for the procedure because you don't have insurance or your insurance doesn't cover bariatric surgery, we can get you scheduled for surgery fairly quickly.
A Month Prior to Surgery: Complete Pre-Op Testing
All patients will need a letter of medical clearance prior to surgery. Unfortunately, since a lot of obese patients have comorbidities like heart disease, high blood pressure, and diabetes, we often require pre-op cardiac clearance. This is to simply make sure your heart is safe enough to undergo the surgery.
We encourage patients to attend support group meetings prior to surgery. We want to make sure you have the support you need and can ask patients that have been through the weight loss journey the necessary questions to be successful.
1-3 Weeks Prior to Surgery: Attend Pre-Op Prep Class and Begin Home Preparations
No matter if you're private pay or paying with insurance, every patient is required to attend the pre-op nutrition/prep class that is led by our bariatric nutritionist. She actually had gastric bypass surgery herself, so she's very familiar with the process, along with the emotions that go along with it. Here, she'll address all your questions and concerns while giving you information on pre-op nutrition, post-op nutrition, and everything else you'll need to know about the surgery, including mental preparations.  
Also, during this time, we recommend prepping your home life in order to make things easier on yourself after surgery. Along with having a friend or family member come stay at the house, especially if you have children, we encourage you to have a pantry and refrigerator stocked full of easily-accessible diet foods and liquids. There are also five medications we prescribe after surgery that we recommend you have filled prior to the operation.
2 Weeks Prior to Surgery: Start Liquid Diet
Two weeks prior to surgery, you'll start a full liquid high-protein, low calorie diet (protein shakes, pudding, etc.), and one day before surgery, you'll start a clear liquid diet (broth, water, tea, or any other liquid you can see through). This diet is important because there are countless research studies that show going on a 2-week liquid diet before surgery actually reduces the size of the liver by purging toxins, and in bariatric surgery, the liver is always in the way. This diet allows us to actually get to where we need to go during the operation. It's also really encouraging since you'll lose weight before the surgery and continue to see the weight come off afterwards.
What to Expect After Weight Loss Surgery
Immediately After Surgery
Most insurance companies require a one-night stay in the hospital after surgery. However, if you're not paying with insurance, surgery will be performed in our outpatient surgery center, and you'll go home the same day.
If you're having gastric sleeve surgery, we'll go ahead and start you on the liquid diet immediately after surgery. If you have a gastric bypass, we will start you on a liquid diet the morning after surgery once you have an upper GI study. This swallowing study simply follows the bypass down to make sure there are no leaks or obstructions. As long as there are no issues, we'll start you on the liquid diet following this test.
Post-Surgery Diet
Just after surgery, you'll be on a clear liquid diet, and you will advance to full liquids at different times depending on the procedure that you had. After full liquids, you will advance your diet slowly by introducing soft foods, or foods of a creamy consistency, over the following weeks. After four weeks, you can start introducing meats and other foods that are a part of your normal diet.
The reason for this slow progression is that we don't want to irritate the stomach after surgery. Liquids and soft foods are really easy for the stomach to break down so that it doesn't irritate the healing process. This diet just gives the stomach the time it needs to heal.
Post-Surgery Restrictions
Until four weeks post-surgery, you shouldn't lift anything over 10-lbs. We also don't want you doing anything like sit ups that could strain the abdominal wall. This limitation is to help you avoid developing a hernia at any of the incision sites. After four weeks, we feel safe with you doing any and all exercises since everything should be healed up enough that you aren't going to do any damage.
Success After Weight Loss Surgery
The patients that take their medications as prescribed and actually stick with the diet after surgery are the ones we've seen be the most successful. We've also found that patients who seek out support are also more likely to lose the weight and keep it off. That's why we encourage our patients to join our Facebook support group, which is led by bariatric patients, and attend our hospital-sponsored support group that is held monthly. These support groups are a place where you can share your emotions and also get your questions answered by people that are on the same weight loss journey.
While weight loss surgery is quite an undertaking, both physically and mentally, the payoff can be bigger than you've ever dreamed. While most of our patients wish they'd done the surgery sooner, it's never too late to get back to a healthy weight and get your life back.    
Birmingham Minimally Invasive Surgery is a caring group of professionals who specialize in all types of bariatric surgery.
 Our surgeon Dr. Jay Long has highly specialized training in bariatric surgery, having completed a fellowship in minimally invasive and bariatric surgery at The Methodist Hospital in Houston, Texas, where he focused on taking care of patients that are morbidly obese.  And we are so proud of our pricing that we publish the costs right on the front page of our website!  Insurance won't pay?  We have a variety of financing options we can offer you so that you are able to get the healthy body you've wanted for years.  Visit us today at http://www.bmisurgery.com/ or give us a call to set up a consultation at 205-833-6907.