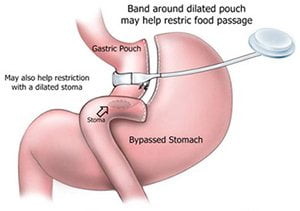 Revisional Weight Loss Surgery
Bariatric surgery is one of the most effective long-term weight loss solutions for those suffering from excess weight and obesity. It is however possible to start regaining some weight several years after a successful weight loss surgery procedure. Remember that life goes on after bariatric surgery and that means that oftentimes, strict diet and exercise regimens fall by the wayside. For this reason and others, the volume of food that you consume may begin to increase and so too may the size of the gastric pouch. The result is weight regain.
For some, mild weight regain may be corrected with diet modification and renewed emphasis on exercise. Others may need a revisional bariatric procedure in order to correct it.  It is important to remember that a revision bariatric procedure should be performed by a qualified surgeon experienced in the type of procedure that you need.
Patients in need of revision will usually come to our office complaining of significant weight regain. Before any revisional bariatric procedure, it is critical to ensure that the weight regain is indeed caused by something other than overeating. For that reason, patients should come to our office prepared with a food journal detailing a week or more of meals and exercise. Once the determination has been made that it is not a behavioral issue, we will be able to discuss surgical options. If, indeed, the patient has lost their way in the post-bariatric diet, we offer a comprehensive back-on-track program to help return them to their former regimen.
A revisional surgical procedure should be undertaken only when all other options are exhausted since there is a greater risk of complications. Please contact our office to schedule a consultation and understand more about the surgical options to correct weight regain.