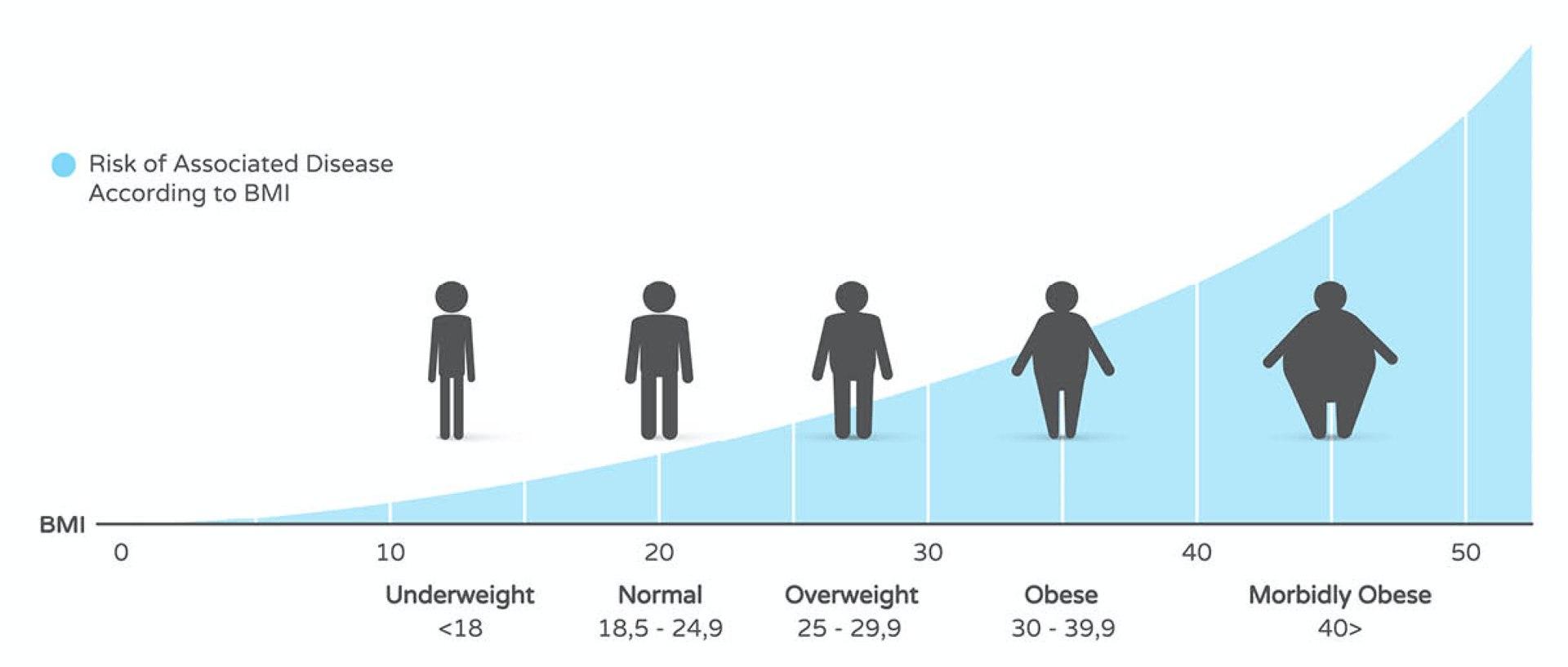 Obesity is a growing health problem that affects millions of people across the U.S. As the number of overweight Americans rises, so does the number of people who are considered severely or morbidly obese.
From poor eating habits to high levels of stress, many different environmental factors, as well as some genetic factors, can contribute to an increase in weight gain. Without the proper intervention and treatment, weight gain can escalate to dangerous levels, leading to a heightened risk of diseases, health problems, significant physical disability or even death.
What is Morbid Obesity?
Morbid obesity is a complex and progressive disease that increases your risk of developing comorbidities and weight related health problems, as well as interfere with your ability to perform many daily physical functions.
It is characterized as an extreme amount of excess body fat and is often measured by calculating Body Mass Index, or BMI, which is the amount of body fat a person has based on their height and weight.
A person is considered morbidly obese when they reach a body mass index of 40 or higher or are more than 100 pounds over what is considered to be an ideal body weight. Along with BMI, morbid obesity is also diagnosed when a person reaches a level of obesity that greatly increases their risk of developing life-threatening health problems.
Health Risks and Conditions Associated with Morbid Obesity
Morbid obesity is recognized as a chronic disease and if left untreated, can lead to the development of one or more serious health problems. Common conditions associated with morbid obesity include:
Type 2 Diabetes
High Blood Pressure
Heart Disease
Osteoarthritis
Sleep Apnea and Other Breathing Disorders
Reproductive Problems
Stroke
Morbid Obesity and Weight Loss Surgery
For people diagnosed with morbid obesity, the risks associated with not having weight loss surgery are often higher than the risks of surgery itself. Obesity is considered a progressive disease because the excess weight gain causes a number of hormonal and metabolic changes in the body that increase the risk for even greater fat accumulation over time, making it difficult to fight using diet and exercise alone.
Luckily, treatment is available and surgery is an extremely viable option. At Birmingham Minimally Invasive Surgery, we work to educate our patients on their weight loss options, as well as life after surgery. To learn more about your options and begin improving your health, schedule a consultation with us today!
---
LEARN MORE ABOUT IF WEIGHT LOSS SURGERY IS RIGHT FOR YOU
Birmingham Minimally Invasive Surgery is a caring group of professionals who specialize in all types of bariatric surgery. Our surgeon Dr. Jay Long has highly specialized training in bariatric surgery, having completed a fellowship in minimally invasive and bariatric surgery at The Methodist Hospital in Houston, Texas, where he focused on taking care of patients that are morbidly obese. And we are so proud of our pricing that we publish the costs right on the front page of our website! Insurance won't pay? We have a variety of financing options we can offer you so that you are able to get the healthy body you've wanted for years. Visit us today at www.bmisurgery.com or give us a call to set up a consultation at 205-833-6907.